Cherrystone's Current Philatelic Auctions
U.S. & Worldwide Stamps & Postal History
May 25-26, 2021
Session 1: Tuesday, May 25, 2020, 10:00am
View/Bid | PDF | Flip Book
Session 2: Tuesday, May 25, 2020, 1:00pm
View/Bid | PDF | Flip Book
Session 3: Wednesday, May 26, 2020, 10:00am
View/Bid | PDF | Flip Book
Session 4: Wednesday, May 26, 2020, 1:00pm
View/Bid | PDF | Flip Book
Our May 25-26, 2021 Auction will run live via CherrystoneLIVE. This 1,382 lot sale features United States and Worldwide countries, beginning with a solid selection of U.S. singles, sets, Postal History and Possessions. The Foreign section features a highly specialized collection of French Indochina, with 19th Century military and civilian mail from what is today Cambodia, Laos, Vietnam and Thailand. This collection was formed by a former French Colonial resident, with an excellent eye for postal history and considered a foremost expert of the subject. From Germany, there are used and unused selections from an-old time collection formed with assistance from Herbert Bloch and the Friedl Expert Committee. Great Britain and British Commonwealth are followed by a collection of Imperial Japan, including the original collection formed in 1875 by Baron Maejima Hisoka, founder of the Japanese Postal System. Italian Offices in China include three rare Pechino and Tientsin items, including unique covers. The Poland selection features Krakow Issue, Locals, Polish Army Corps in Italy, with unique errors and varieties. Russia boasts a collection of 300+ lots of Zemstvo, with many ex-Baughman, Faberge, and Bianchi items. In addition, this sale includes a strong selection of 100+ large lots and collections ranging from single country albums to specialized collections, multi-carton worldwide properties and large cover lots
---
U.S. & Worldwide Stamps & Postal History
April 13-14, 2021
View Prices Realized
View Entire Auction
Our April 13-14, 2021 Auction will be held live via CherrystoneLIVE. This 1,067 lot sale features United States and Foreign countries. The sale begins with over 400 lots of high quality U.S. singles including many rarities and graded items. The Foreign section includes Austria, France and Colonies, Germany, Italy and Colonies, Poland, Russia, Great Britain and British Commonwealth, China and South and Central American countries as well as an outstanding selection of the Treasures of Israel Philately, offered for sale at auction for the first time. Featured are the 1948 sheets of Doar Ivri, perf. and imperf. as well as uncut sheets of 300 of the First Festivals issue and the Postage Dues sets. In addition, this sale includes a strong selection of 200+ large lots and collections ranging from single country albums to specialized collections, multi-carton worldwide properties and large cover lots.
---
Professional Affiliations
Cherrystone is a member of all leading philatelic organizations including the American Stamp Dealers' Association, American Philatelic Society, Philatelic Traders Society, APHV, The Collectors Club of NY, AIEP, ROSSICA, MEPSI and more.
---
Cherrystone Auctions Relocates to Teaneck, NJ Corporate Campus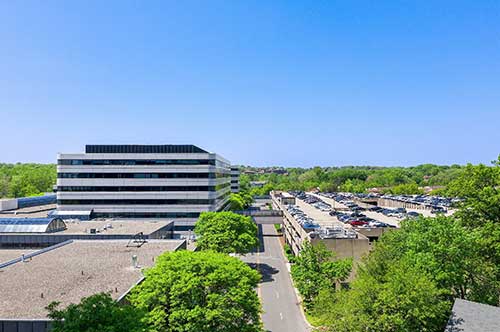 Cherrystone Auctions recently relocated to the Glenpointe Corporate Campus in Teaneck, NJ. The new location is just 12 miles from midtown Manhattan and provides greater accessibility for their clients.
---
New Amsterdam Collection of Important U.S. Rarities
Some highlights and record shattering results are listed below: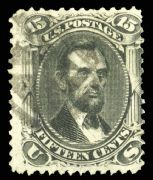 15c Z. Grill (85F)
Sold for $1,610,000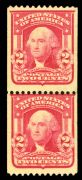 2c Coil (321)
Sold for $805,000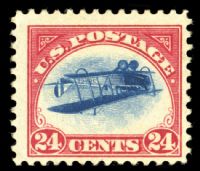 24c Inverted Jenny (C3a)
Sold for $402,500