Cherrystone's Current Philatelic Auctions
The Carl Kilgas Collection of China
June 14, 2023
Session 1: Wednesdy, June 14, 2023, 10:00am
View/Bid | PDF | Flip Book
Carl A. Kilgas was born in Wisconsin in 1905 but lived most of his life on the US Pacific Coast, first in Seattle, Washington, where he began to collect China in the 1920s. He continued to expand the collection after moving to Portland, Oregon, eventually settling in Los Angeles. Joining the very active Southern California chapter of the China Stamp Society, Carl befriended several enthusiastic China collectors and became an active supporter of the annual Los Angeles Sescal stamp exhibition, regularly supplying exhibits of small portions of his collection. Over the years, he published articles in the China Clipper from 1976 to 1985. A member of the Collectors Club of New York, he published a series of articles in the CCNY journal outlining China's postal history, with illustrations of stamps and covers of from his own collection to tell the story.

It is difficult for philatelists today to imagine what it was like collecting China in the years before the Ma Catalogue's publication in 1947. Back then, collectors had to depend on general worldwide catalogues such as Scott, Stanley Gibbons and Yvert & Tellier. Imperial China's 1878-1883 Large Dragons were listed as only three major stamps, rather than the twelve we recognize today. The Dowagers were listed as one set of nine. Other printings were regarded as mere shade varieties. The only sense we can get of how things were back in those pioneering days is from the few articles that appeared in M.D. Chow's Philatelic Bulletin, Shanghai's Asia Stamp Journal, the British Journal of Chinese Philately, the China Clipper in America, and occasional books such as Lloyd Ruland's Express Stamps and Starr-Mills Chinese Air Post.

Fortunately, a few collectors were in the right place at the right time, and had a combination of patience, technical skill, intellectual curiosity, audacity, and love of Chinese stamps. The most well-known China collection formed by a foreigner during that period was that of the American Major James Starr, whose philatelic friendship with M.D. Chow in Shanghai was supported over many years by mail, through which they exchanged ideas on subjects such as plating the Large Dragons. Major Starr died in 1949, but his collection was held intact until 1991, when it was auctioned, 42 years later.

Despite his regional activities, Carl Kilgas was unknown to the international China philatelic community. All that changed when he was asked to provide a few album pages to the 1984 Rocpex exhibition in Taipei. Over the next few years, his telephone would often ring in the middle of the night. When he picked up the handset, a voice at the other end, usually some dealer in Taiwan, would identify himself and demand to buy his China collection. This happened too often and became so annoying that Carl decided not to sell anything. Almost forty years later, we benefit from this decision since the comprehensive collection that we are now pleased to offer has remained completely untouched.
The first part of the Carl A. Kilgas collection contains selections of his extensive holding of the Large Dragons, Dowagers and Chinese Imperial Post Coiling Dragons. Additional sales will follow later this year.
We hope you enjoy these sales and good luck in bidding

---
Rare Stamps & Postal History of the World
May 9-10, 2023
View Prices Realized
View Entire Auction
Welcome to our May 9-10, 2023 Sale of Rare Stamps and Postal History of the World, which will take place at our Teaneck, N.J. Galleries and over the internet via CherrystoneLIVE. There are 1,487 lots in the sale, which begins with United States and U.S. Possessions, including graded items, Plate Blocks, and modern errors. In the Worldwide section we are pleased to offer Great Britain and British Commonwealth, European Countries, Asia and the rest of the world. There is a splendid collection of Egypt and Orient Zeppelin flights, featuring three of the four known Suez dispatches, plus other rarities. There are further selections from the estate of Dr.Martin Stempien, a respected postal historian and Secretary to the Chairman of the Expert Committee at the New York Philatelic Foundation from 1988-2018. The auction concludes with over two hundred Large Lots and Collections, ranging from single country albums, specialized collections, multi-carton worldwide groups and large cover lots offered intact.
---
Professional Affiliations
Cherrystone is a member of all leading philatelic organizations including the American Stamp Dealers' Association, American Philatelic Society, Philatelic Traders Society (Gold Member), APHV, The Collectors Club of NY, AIEP, ROSSICA, MEPSI, GPS, UPSS, Club de Monte Carlo and more.
---
The Carl Kilgas Collection
of China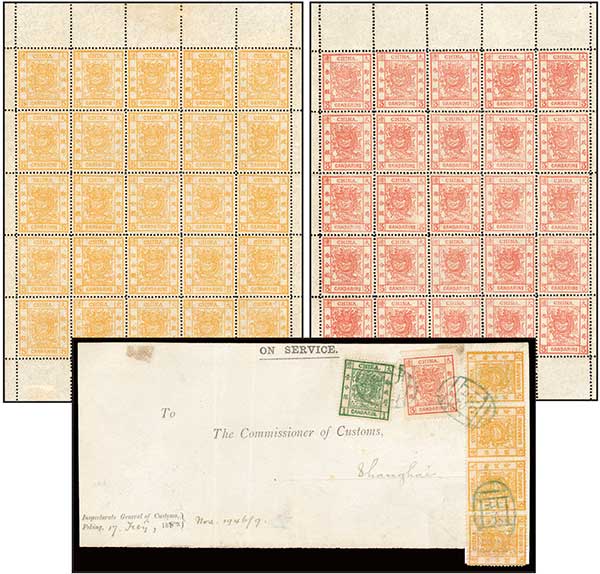 Specialized Stamps and Postal History
Seen for the first time in many decades. To be offered through a series of auctions.
Part I coming JUNE 2023
---
New Amsterdam Collection of Important U.S. Rarities
Some highlights and record shattering results are listed below: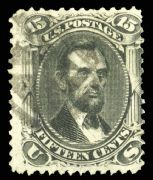 15c Z. Grill (85F)
Sold for $1,610,000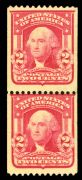 2c Coil (321)
Sold for $805,000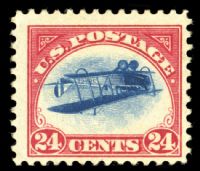 24c Inverted Jenny (C3a)
Sold for $402,500