Cherrystone's Current Philatelic Auctions
The New Amsterdam Collection of United States Sheets
October 3, 2019
SESSION 1: View Auction | Page Flip | PDF
The New Amsterdam Collection of United States Sheets will be held on October 3, 2019 at 1:00 PM at the Cherrystone Auction galleries. There are 77 lots, with a selection of rare sheets including 1851 3c dull red (Scott 11), Columbians with 15c, 30c and 50c in panes of 100, also $1-$5 blocks of four, Trans-Mississippi $1 pane of 50 (one of only three known), Pan-American, Louisiana Purchase and Jamestown, Panama-Pacific Perf. 10 5c and 10c sheets of 70 (403,404). Other commemoratives include Kansas-Nebraska set, plus many others. There are rare regular issues with 500 and 519, 571-573, 578, 579, 595 and others. In addition, there are complete sheets of Air Post with C1-6 and C13-15 Zeppelin Issue in panes of 50.
---
Rare Stamps & Postal History of the World
September 17-18, 2019
SESSION 1: View Auction | Page Flip | PDF
SESSION 2: View Auction | Page Flip | PDF
SESSION 3: View Auction | Page Flip | PDF
SESSION 4: View Auction | Page Flip | PDF
Welcome to our September 17-18 Sale, to be held at our New York City galleries. There are 1,522 lots of rare stamps and postal history of the World, featuring properties of numerous vendors and estates sold by their order. A selection of United States, including the Unique Double Franking Brattleboro Provisional, followed by Austria, Belgium, specialized Carpatho-Ukraine and Baltic Countries, Asia, France and Colonies, Germany and Colonies, Italian Area, specialized Liechtenstein, Spain, South America and Scandinavian countries. There are strong sections of Poland, with numerous ex-Mikulski items, as well as Russia, with rare proofs and essays. Great Britain and British Commonwealth are well represented and there are numerous flight covers of the world, with selections of Zeppelin dispatches. The sale concludes with the usual selection of large lots, which range from single country collections to multi-carton worldwide groups of stamps and covers.
Live Internet bidding is available through our website www.cherrystoneauctions.com (via CherrystoneLIVE).
A limited number of printed catalogues are available on request. Preview of lots at our 57th Street galleries by appointment.
---
Professional Affiliations
Cherrystone is a member of all leading philatelic organizations including the American Stamp Dealers' Association, American Philatelic Society, Philatelic Traders Society, APHV, The Collectors Club of NY, AIEP, ROSSICA, MEPSI and more.
---
New Amsterdam Collection of Important U.S. Rarities
July 10, 2019
We have just completed our sale of The New Amsterdam Collection of United States Rarities. Hundreds of bidders competed for 220 lots which sold during a rapidly paced four-hour session. [Read Article]
Some highlights and record shattering results are listed below: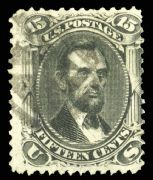 15c Z. Grill (85F)
Sold for $1,610,000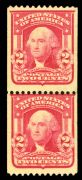 2c Coil (321)
Sold for $805,000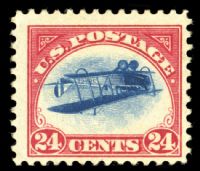 24c Inverted Jenny (C3a)
Sold for $402,500