Cherrystone's Current Philatelic Auctions
Please note: All auctions will take place as scheduled via CherrystoneLIVE.
U.S. & Worldwide Stamps & Postal History
July 7-8, 2020
Session 1: Tuesday, July 7, 2020, 1:00pm
View/Bid | PDF | Flip Book
Session 2: Wednesday, July 8, 2020, 10:00am
View/Bid | PDF | Flip Book
Session 3: Wednesday, July 8, 2020, 1:00pm
View/Bid | PDF | Flip Book
Our July 7-8, 2020 auction will be held on CherrystoneLIVE. The sale contains 940 lots of Rare Stamps and Postal History of the World, with extensive United States, European countries, including Austria, France and Colonies, German Area, Hungary, Italy and Colonies, Switzerland and other areas. Great Britain and British Commonwealth feature many high values and sets covering all reigns. This sale concludes with a good selection of large lots and collections, which range from single country albums to specialized collections and multi-carton worldwide stocks and cover lots. Please note our usual catalogues have not been printed for this sale, due to the current unreliability of the postal service (we hope to resume printing catalogues for the future auctions)
---
Professional Affiliations
Cherrystone is a member of all leading philatelic organizations including the American Stamp Dealers' Association, American Philatelic Society, Philatelic Traders Society, APHV, The Collectors Club of NY, AIEP, ROSSICA, MEPSI and more.
---
New Amsterdam Collection of Important U.S. Rarities
Some highlights and record shattering results are listed below: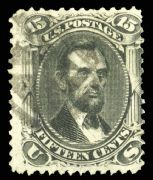 15c Z. Grill (85F)
Sold for $1,610,000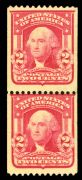 2c Coil (321)
Sold for $805,000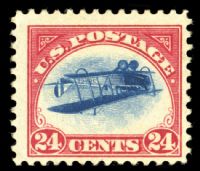 24c Inverted Jenny (C3a)
Sold for $402,500