Cherrystone's Current Philatelic Auctions
Please note: All auctions will take place as scheduled via CherrysoneLIVE.
United States Stamps & Postal History
April 22, 2020
SESSION 1: View Auction | Page Flip | PDF
SESSION 2: View Auction | Page Flip | PDF
We are pleased to present our April 22, 2020 sale of United States Stamps and Postal History, featuring the collection of Richard Carl. With 740 lots, we have nice sections of Stampless Covers, Free Franks and Autographed letters, Postmasters' Provisionals, an excellent range of imperf. Classics and other 19th Century used and unused, including Fancy Cancels, Civil War Patriotics, Territorial covers, 20th Century with Regular Issues and Commemoratives to $5, Large Die Proofs, Modern Errors and varieties. Back of the book includes Air Post, Postage Dues and more, followed by Confederate States, U.S. Possessions and Large Lots and Collections. Scattered throughout are many graded stamps and plate blocks. Printed catalogs are available on request.
---
Rare Stamps & Postal History of the World
May 12, 2020
SESSION 1: View Auction | Page Flip | PDF
SESSION 2: View Auction | Page Flip | PDF
Our May 12, 2020 sale was prepared in anticipation of London 2020 World Stamp Exhibition. While the show has been rescheduled, this auction will take place as scheduled. There is an important collection of Great Britain and British Commonwealth, with many individual Colonial is offered intact. In addition, there are hundreds of better individual lots of Inverted Centers of the World, French Colonies Postal History selection from the Lorenz correspondence to Trieste, excellent range of European countries, with Italian Colonies, especially Fezzan, Poland, Russia, as well as rarities from Japan, Korea and more. There are many attractive and substantial Large Lots and Collections, often fully scanned.
---
The Hawkins Collection of European Colonies
May 13, 2020
SESSION 1: View Auction | Page Flip | PDF
A continuation of The Hawkins Collection, this sale features European Colonies, with Belgian Congo, Germany Colonies, Netherlands and Portuguese Colonies, Italian Colonies in North Africa, with many seldom offered singles and sets. In addition, there is a substantial selection of Spanish Cuba, Philippines and other Spanish Colonial Possessions, including Mariana Islands, Elobey and others. There are also large lots and collections, with many attractively prices lots of these popular and elusive areas. Large lots and balances have been scanned in their entirety and are available for viewing.
---
Professional Affiliations
Cherrystone is a member of all leading philatelic organizations including the American Stamp Dealers' Association, American Philatelic Society, Philatelic Traders Society, APHV, The Collectors Club of NY, AIEP, ROSSICA, MEPSI and more.
---
New Amsterdam Collection of Important U.S. Rarities
Some highlights and record shattering results are listed below: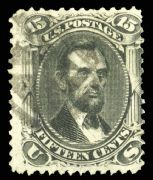 15c Z. Grill (85F)
Sold for $1,610,000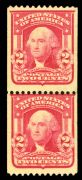 2c Coil (321)
Sold for $805,000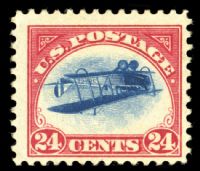 24c Inverted Jenny (C3a)
Sold for $402,500