Cherrystone's Current Philatelic Auctions
The Hawkins Collection of Select European Countries
December 4, 2019
SESSION 1: View Auction | Page Flip | PDF
The Hawkins collection is a fine assembly of unused stamps from several pre-World War II European Countries, notably Albania, Austria, Luxembourg, Portugal, Spain and Switzerland. There are many rare and seldom offered classics, such as an unused 1851 2 Reales Isabella and 3 Cuartos Arms of Madrid from Spain, Zurich and Geneva 4Rp and 6Rp, as well as a Basel Dove and a complete selection of Sitting and Standing Helvetias. Most of the individual lots are accompanied by certificates, with excellent and comprehensive balances offered intact, with Greece, Germany, Bulgaria, Yugoslavia and others. A compact and powerful single owner sale, the Hawkins Collection will be sold on 4th December 2019 at 1:00 PM at our New York Galleries and via CherrystoneLive.
---
Rare Stamps & Postal History of the World
November 12-13, 2019
SESSION 1: View Auction | Page Flip | PDF
SESSION 2: View Auction | Page Flip | PDF
SESSION 3: View Auction | Page Flip | PDF
Welcome to our November 12-13 Sale. In addition to our usual assortment of high quality Stamps and Covers, this auction features the stock of Broadway Stamp Company, started in 1931 by Max Sage. A legendary presence in the philatelic world, Broadway Stamp Company was the original United States agency for the 1935 British Commonwealth Silver Jubilee issue. A retail store, with locations on Fulton, West 47th and Nassau Streets and finally on West 54th Street, the company advertised and published numerous catalogues. After Max's death in 1973 (at the age of 77), his wife Margie and son Stan continued Broadway Stamp Co., selling to dealers and mail-order customers around the country. There are numerous lots of United States, British Commonwealth and South America, much of the material offered for here the first time in 45 years. Also included are additional properties, notably specialized Cuba, France, Germany, Poland, Russia, Saudi Arabia and others. There are numerous large lots and collections, many featuring the bulk inventory of Broadway Stamp Company.
---
Professional Affiliations
Cherrystone is a member of all leading philatelic organizations including the American Stamp Dealers' Association, American Philatelic Society, Philatelic Traders Society, APHV, The Collectors Club of NY, AIEP, ROSSICA, MEPSI and more.
---
New Amsterdam Collection of Important U.S. Rarities
July 10, 2019
We have just completed our sale of The New Amsterdam Collection of United States Rarities. Hundreds of bidders competed for 220 lots which sold during a rapidly paced four-hour session. [Read Article]
Some highlights and record shattering results are listed below: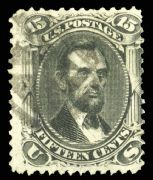 15c Z. Grill (85F)
Sold for $1,610,000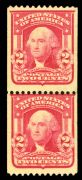 2c Coil (321)
Sold for $805,000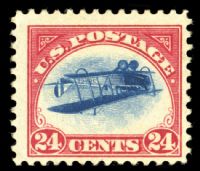 24c Inverted Jenny (C3a)
Sold for $402,500