The New Amsterdam Collection of United States Stamps Realizes Close to $7 Million in Cherrystone Auction
July 10, 2019
Cherrystone Auctions, a New York City based auction house specializing in rare stamps and postal history of the world, sold The New Amsterdam Collection of United States Stamps for close to $7 million on July 10, 2019. Hundreds of floor and internet bidders competed for just 220 lots at auction which took almost four hours to complete. With the final hammer, the New Amsterdam Collection took it's rightful place among the most valuable stamp collections in philatelic history.
The New Amsterdam Collection was formed over fifty years ago, it's mission to complete spaces in a newly acquired Scott National Postage Album. Most of the material was acquired through Dumont Stamp Company, an old established and respected dealership which was in midtown Manhattan in the 1970s.
Competition was intense, especially for the top items. The absolute highlights of the auction were the two 1867 "Z" Grills, each with a pre-sale estimate of $750,000. The 10¢ green (Washington) fetched $1,150,000 and 15¢ gray black (Lincoln) $1,610,000, the latter setting a record for a single United States stamp sold at auction.
Additional rare Grills realized $661,250 for a 3¢ "B" Grill and $172,500 for a 30¢ "A" Grill. Other noteworthy results include $287,500 for 1869 30¢ Pictorial with Inverted Flags and $402,500 for 24¢ Inverted Jenny. A rare 2¢ coil pair estimated at $300,000 was hammered down at $805,000. All results include Cherrystone's 15% buyer's premium.
The next Cherrystone auction featuring Rare Stamps and Postal History of the World will be held on August 6-7, 2019.
SESSION 1: View Auction | PDF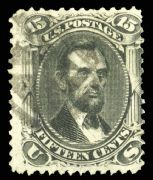 15c Z. Grill (85F)
Sold for $1,610,000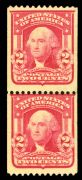 2c Coil (321)
Sold for $805,000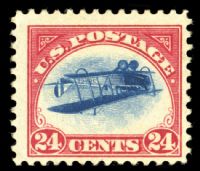 24c Inverted Jenny (C3a)
Sold for $402,500